Dubai is the Emirate of record-breaking skyscrapers, glittering palaces, artificial islands and gardens that rise from the sand.
We usually think of Dubai as a destination made of concrete and crystal, of elevated and metropolitan airways, of gigantic indoor shopping centers and ski slopes in the scorching sun.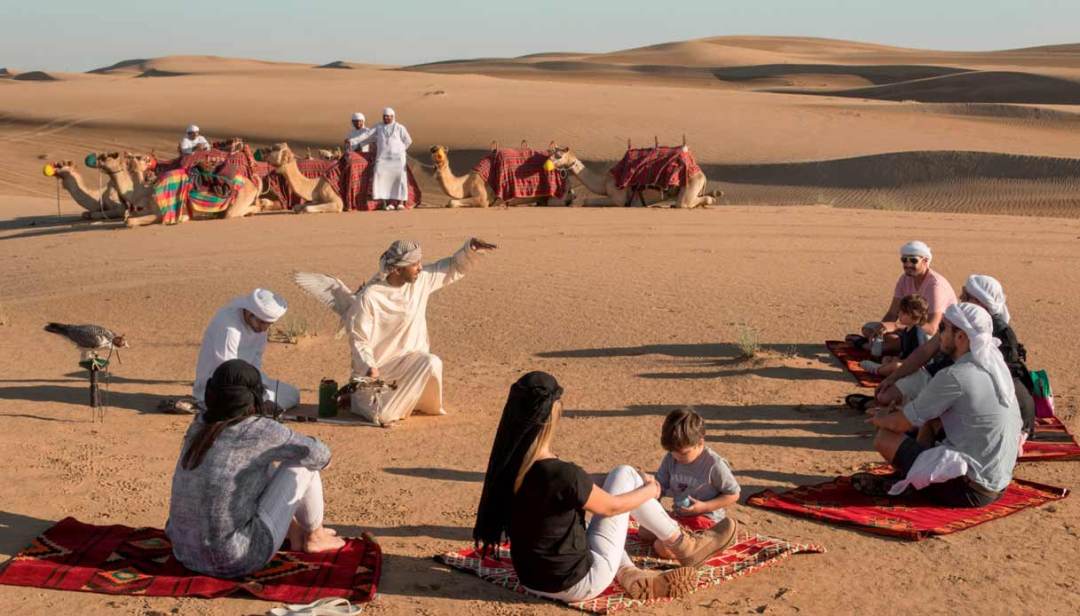 But Dubai is, was and always will be a destination where the desert is the true protagonist . Despite everything built on it. A real vacation in Dubai cannot therefore disregard its natural and primary element.
At the gates of the very modern city is the nature conservation reserve of the desert of Al Marmoom , which allows tourists to experience the Bedouin life of the Emirates.
First of all it is worth finding yourself in the desert at dawn or at sunset to admire the light and the colors that the dunes take in the suggestive reserve of Al Marmoom.
In the desert, like real Bedouins, you learn to saddle, ride and take care of your camel , joining a real nomad caravan on the journey to reach the camp.
In addition to trying traditional food cooked in the sand , as nomadic populations living in the desert have been doing for centuries, guests are welcomed by local guides who accompany them on a Bedouin-style tour of the camp.
The village is built around an oasis to recreate the environment that the Bedouins preferred to settle, close to water sources that helped them survive in the arid nature of the desert.
The charming village consists of Bait Al Sha'ar, the authentic Bedouin tents, where guests can enjoy the local cuisine and carry out educational activities, and Al Hathira, a traditional building where the Bedouins used to welcome their guests .
Visitors are invited to sit in a circle with the Bedouins to listen to stories about their culture and heritage and to attend other moments of entertainment, such as the falconry show , the typical dances and the display of handicraft objects that show the artistic inspiration of the nomad community.
This experience tells tourists the true life of the desert, taking them back in time to show the cultural origins of the Emirate.
Who wants can also sleep in the tented camp, made of comfortable rooms with shared bathroom. For the more picky, instead, return in the evening and go back to sleep in your five-star hotel.