I left for Tunisia with great enthusiasm, imagining to visit a place with scenarios already seen and loved in Morocco. Instead, although there are naturally many similarities, each nation has its own "spirit" that characterizes it, making it unique and, therefore, fascinating .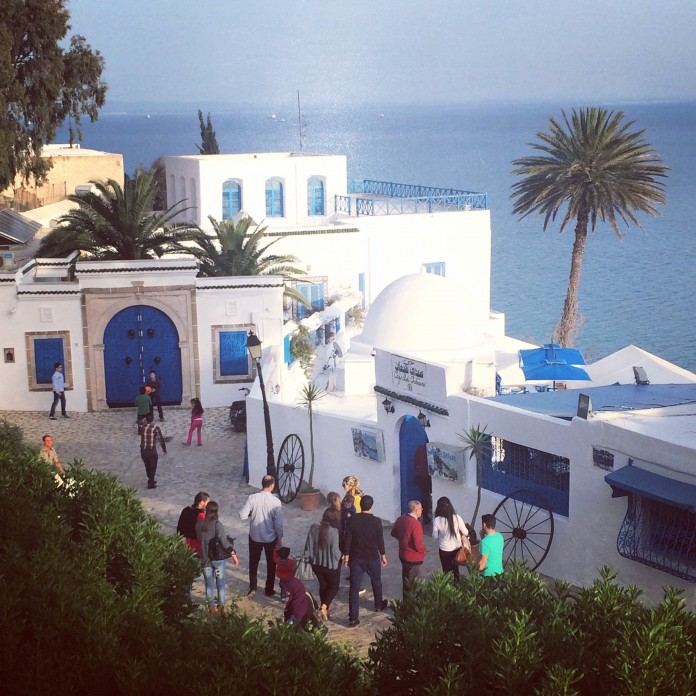 In the case of Tunis, the true spirit of the city is perceived not only in the center of the city, but also in its suburbs and its surroundings. So when you have visited the Medina, the Ville Nouvelle, the Bardo museum or you have been lost in the ruins of Carthage you can go to Sidi Bou Said, a delightful town overlooking the sea. 
With its waterfalls of Buganville and the bright red geraniums on the blinding white walls in which windows are protected by blue grilles, and with its steep cobblestone alleys and extraordinary glimpses of blue sea, Sidi Bou Said appears as one of the most beautiful of the Tunisian coast .
It is a pleasure to simply walk, on the main road and in the alleys, until you get to some points with beautiful views of the sea, with the marina at the foot of the slope. 
The village is full of craft shops, some for tourists, others for really local products: you can find colorful ceramics, the classic stoles of Tunisia and mirrors that recall the decorated doors.  Then for those who can look for there are some little secrets that sell special perfumes and real crafts.
In the Arab culture, bargaining is compulsory. But you are invited to proceed only if interested in buying because almost always sellers accept the counterproposal to the downside.
Halfway down the main street there is a small open space, down there on the left side, right at the beginning of a side street there is a two-storey shop that sells pottery and fabrics. The sellers are friendly, the goods are well taken care of and it's fun to even negotiate to bring home a piece of Tunisia.
You can not miss, also, a stop in one of the famous terraces where you can quietly order and drink the famous mint tea with pine nuts . And if you walk a pecker while you walk you can stop at one of the cloisters selling the bambalouni , big and sugary donuts that seem to be a specialty of Sidi Bou Said. If you do not want to sleep in the center of Tunis or want to combine a little 'relaxation on the beach to the knowledge of the city you can stay in La Marsa . In La Marsa there are luxury hotels, basic hotels and apartments to rent all overlooking the sea. The crystalline water and the golden sand welcome tourists and Tunisians .

In the morning just at dawn, which explodes in its orange colors, you can see young fishermen getting ready to take a ride with their boats, collect the catch from the net and return a few hours later.